Domain ellenőrzött (DV) SSL
Tudja biztonságban az oldalát pár perc alatt!
Mi az a DV SSL?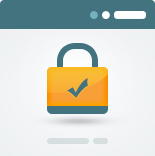 A Domain Validated SSL tanúsítványok könnyű és olcsó megoldást kínálnak az SSL gyors bevezetésére. Ezek esetén csak azt vizsgáljuk, hogy az Ön tulajdonában van-e a Domain név, de a szervezetet nem.
A DV SSL tenúsítványok ideálisak magán weboldalakhoz, blogokhoz, kisebb oldalakhoz ahol nem kérünk be érzékeny, vagy privát információkat. A DV SSL tanúsátvány használatával a biztonságos HTTPS kapcsolatnak köszönhetően zöld lakat ikon jelenik meg a böngészőben és a böngésző biztonságosnak jelöli a honlapot.
Delivered in Minutes for Instant Protection
The fastest and most affordable way to activate SSL protection for your website, issuance is quick and often fully automated.
Trust Site Seal
Our SSL Certificates come with a trust seal that has been proven to increase visitor confidence and customer conversions.
Boost your Google Ranking
Google uses SSL/HTTPS as a factor in determining search engine ranking. Add SSL today to help boost your Google ranking!
Certificate Features
Secure online transactions
99.9% Browser Compatability
Our SSL certificates are from some of the most trusted brands in Online Security.



Powered by WHMCompleteSolution