Domain Validated SSL
Asigurați-vă site-ul în doar câteva minute!
Ce este Standard DV SSL?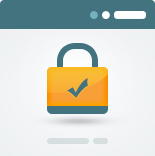 Certificatele de Validare a Domeniului oferă o modalitate economică și rapidă de a implementa SSL pe site-ul dvs.. Certificatele validate pe domeniu vă confirmă faptul că sunteți proprietarul domeniului, dar nu efectuați nicio validare suplimentară la nivel de organizație.
Certificatele validate pe domeniu sunt ideale pentru site-uri personale, bloguri și social media sau orice site care nu transmite privat și confidențial informație. Un certificat de domeniu validat activează lacătul din browser și permite utilizarea https-ului pentru a vă asigura vizitatorilor și clienților site-ului că le-ați luat intimitatea în serios.
Delivered in Minutes for Instant Protection
The fastest and most affordable way to activate SSL protection for your website, issuance is quick and often fully automated.
Trust Site Seal
Our SSL Certificates come with a trust seal that has been proven to increase visitor confidence and customer conversions.
Boost your Google Ranking
Google uses SSL/HTTPS as a factor in determining search engine ranking. Add SSL today to help boost your Google ranking!
Certificate Features
Secure online transactions
99.9% Browser Compatability
Our SSL certificates are from some of the most trusted brands in Online Security.



Powered by WHMCompleteSolution